100% Customer Satisfaction Guaranteed
HVAC Tune Up in Memphis, TN
Trust The Professional Team With Over 40 years of Experience
Have you ever woken up on a hot summer morning and wondered why your house wasn't cool, only to find out that your AC stopped working overnight? It can feel unexpected to have your HVAC system break down on you right when you need it. But the problem may have been a long time coming. With a lot on your plate, you may not notice the subtle hints your HVAC system can give you when it's about to break down.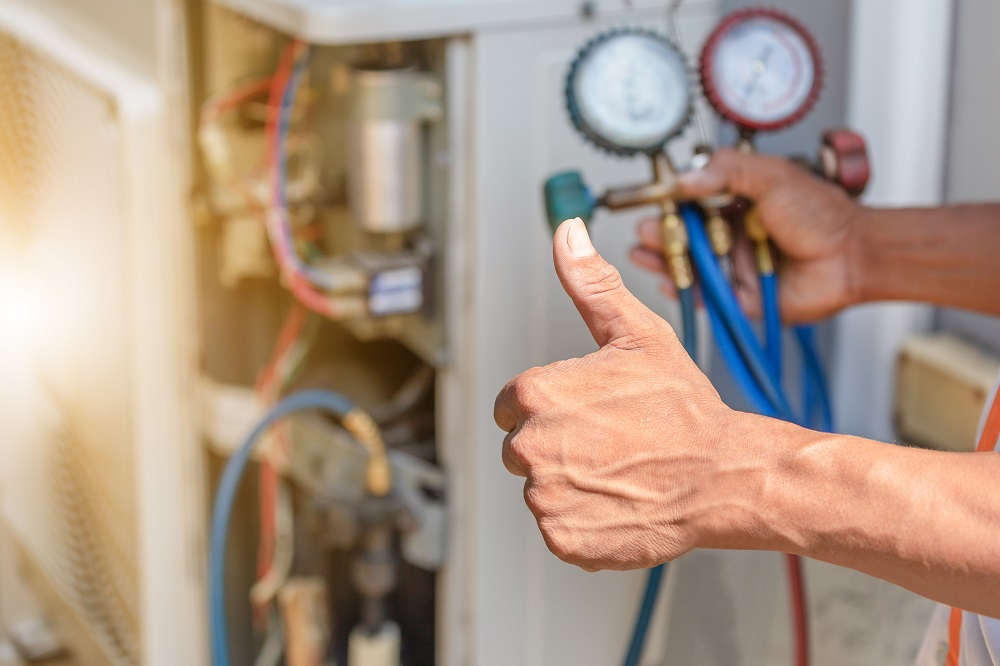 When you schedule an HVAC service, you'll be able to catch those problems before you need an emergency HVAC service. At Aloha Air Conditioning and Heating Services, we offer HVAC tune up services in Memphis, TN and the surrounding areas to help local families save money on HVAC repairs throughout the year. 
Contact us online or give us a call today at (901) 808-8881 for more information on our HVAC tune up services or to schedule an appointment with one of our HVAC professionals.
Do You Need an HVAC Tune Up or a Repair?
If you've never heard of an HVAC tune up, that's okay. A lot of people don't even realize that there are options for taking care of their HVAC system besides simply calling when a breakdown happens. But a tune up is a lot different from a repair, and it's something that almost every HVAC contractor will strongly recommend.
An HVAC repair is what you'll need if your system breaks down or stops working as well. You can call for a repair if you notice your heater or AC making funny noises or if it doesn't seem to be heating or cooling efficiently anymore.
 Tune ups are a routine service you schedule for your system every year, even if it seems like it's in tip-top shape. It's usually scheduled at the same time every year, and the same items are taken care of each time. It's the regular maintenance your ac or heater needs to have a long life and run efficiently.
Having a little more information about what is done during a pre-season HVAC tune up can be helpful when you're deciding whether your system needs one. Throughout the year, whether you're heating or cooling your home, your HVAC system is working behind the scenes to keep you comfortable. But while it does that, moving parts can start to lose their lubrication and wear out from the extra friction. Dirt and minerals can also start to collect on crucial parts like the evaporator coils and cause them to work less efficiently.
During an tune up service, a technician from Aloha will clean the system, look for worn-out parts, oil up the moving parts, and check for any safety issues or potential problems. This whole process is going to make the system a lot more efficient and keep it from breaking down. After all, what is an HVAC tune up for if not to save you money?
Need to schedule an appointment for service? Give us a call today at (901) 808-8881.
Every time we do an HVAC spring tune up, we work through a checklist to make sure we are catching everything. Here are just a few of the items that will be taken care of each time we come:
Change the air filter
Examine and straighten AC fins
Lubricating moving parts
Check and recalibrate the thermostat
Check and tighten electrical connections
Clean coils
Check for refrigerant leaks
Charge refrigerant
Inspect blower motor
Check and adjust belts
Test safety controls and emergency shutoffs
Clean and flush drain line and pan
And more!
Trusted HVAC Services from Trusted Professionals
There's a good chance your system is going to keep running even without an HVAC spring tune up. But every HVAC contractor knows that it won't be running smoothly for long. If you don't mind having to spend more on repairs, or you're okay with having to replace your system a few years sooner, you might choose to not have an HVAC tune up. But you can prevent a lot of emergency breakdowns and save a lot of money on your utilities by having it looked at once a year. HVAC service is a lot more affordable than paying to replace major parts or install a new system. At Aloha, we recommend a tune-up at the start of each season for both your AC and heater. 
Need an HVAC Tune Up? Call Aloha Air Today!
HVAC tune up service is a great way to invest in both your HVAC system's health and your family's comfort. At Aloha Air Conditioning and Heating Services, we do everything we can to help families in the Memphis, TN area with their heating and air conditioning systems. We have years of experience in servicing HVAC systems, and we've seen how great tune ups can be for keeping a system going. If you're ready to see what all the hype is about, give us a call! We'd be happy to walk you through our services and get you on our schedule. 
For more information on our HVAC tune up services, or to schedule an appointment for HVAC services with one of our skilled professionals, contact us online or give us a call today at (901) 808-8881.