Heating & Cooling Services in Millington, TN
100% Customer Satisfaction Guaranteed
HVAC Services in Millington, TN
Trust The Professional Team With Over 40 years of Experience
During Millington summers, you don't often have to look at the temperature to know that it's going to be hot. Some days are so broiling that even a cold drink in the shade can't cool you off. Winters can be just as unforgiving, when the humidity in the air can make a 40℉ day feel like a 30℉ day. But when contact our skilled team for heating & AC services, you'll always have at least one place you can go to escape the weather.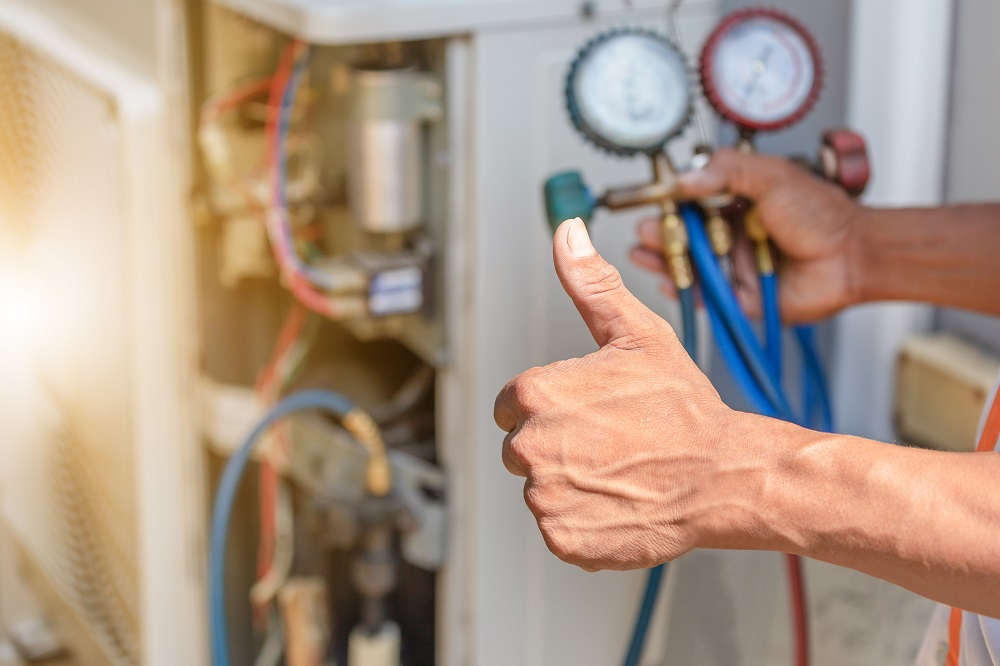 Contact us online or give us a call today at (901) 808-8881 for more information on our HVAC services or to schedule an appointment with one of our HVAC professionals.
Our Heating & Cooling Services in Millington
At Aloha Air Conditioning and Heating Services, we know what the climate is like in Millington, TN. That's because many of us have lived here all our lives. We know what it takes to stay cool in summer and warm in winter. The right HVAC services can make all the difference. And that's what we offer here at Aloha. 
You might be able to tolerate a bit of cold. When you're chilly, you can put on a pair of warm socks, throw on a thick sweater, and cuddle under a blanket. But when you're hot, there's not a lot you can do to cool off. That's why it's always important to keep your AC running with Cooling services. It doesn't matter if your air conditioner needs a repair, a replacement, or yearly service, we can be at your door in a jiffy.
AC Repair
You've been hearing strange clunking sounds coming from your AC unit, and now it has stopped working. A broken AC can make your heart drop even as the temperature on your thermostat goes up. You don't have to wait around for cooling services when you call Aloha Air for AC repair. It won't be long at all before we have the problem fixed and cool air flowing once again. 
AC Installation
Has an HVAC technician ever tried to sell you an AC unit that's too big for your house? Finding the right air conditioner is important. If you've got an air conditioner that's too big, it will cycle on and off too fast, wasting energy and not properly dehumidifying your home. With our AC installation service, you'll always know exactly what system your house needs, and we'll carefully install it, so you get the best use out of your AC. 
AC Maintenance
Did you know that most AC warranties require regular maintenance, or they won't cover the cost of repairs? That's just one of the reasons why seasonal HVAC services are important. We recommend scheduling AC maintenance with us once a year, so we can clean and adjust your system and check for any problems. 
Need to schedule an appointment for HVAC services? Give us a call today at (901) 808-8881.
Chilly days in Millington, TN can be a relief after a long, hot summer, but if your house is cold, you can't enjoy the cooler weather. When we take care of your heating services, even rainy days can be cozy. We have all the heating solutions you need for year-round comfort. 
Furnace Services
There is a reason that most people use a furnace to heat their homes. The warmth that comes from these systems, whether they are electric, gas, or oil, is very comforting. We're here with our furnace services for when your furnace breaks down, when you decide you need a new one, or when you just want to keep it maintained. 
Furnace Repair
A broken furnace isn't just an inconvenience, it can make your house uninhabitable if the weather is cold enough outside. We want there to be as little downtime as possible between when the breakdown happens and when the furnace gets fixed. Our furnace repair service is prompt, and we always have someone to take your call.
Furnace Installations
A new furnace might be one of the most important purchases you make this year. You are investing in the heat that you will have for the next 20 years, so it's not a decision to take lightly. We understand this, and we take the time to help you choose the right furnace. Once you've found a good one, you can schedule a time for the installation. We'll be there on time, perform your furnace installation, and then make sure it's working at 100%. 
Furnace Maintenance
When you have a new furnace that you want to last for at least 20 years, one of the first heating services that you should schedule is a tune-up. Your furnace will stay in perfect condition for years with minimal repairs when you let us take care of the seasonal maintenance.
Call Aloha Air for Trusted Heating & Cooling Services You Can Depend On
At Aloha Air Conditioning and Heating Services, we go above and beyond to make sure you and your family have a comfortable home all year long. We are always happy to meet new families from Millington, TN, and we look forward to being your heating and cooling services provider of choice. 
For more information on our HVAC services or to schedule an appointment with one of our skilled professionals, contact us online or give us a call today at (901) 808-8881.