Heating & Cooling Services in Lakeland, TN
100% Customer Satisfaction Guaranteed
Heating & Cooling Services in Lakeland, TN
Trust The Professional Team With Over 40 years of Experience
If you live in Lakeland, TN, you know a little something about the heat. Summers are long and humid and can make you feel like you're living in a sauna. On the other hand, winters can be cold and wet and make you wish for warmer days. At Aloha Air Conditioning and Heating Services, our job is to make sure you are comfortable no matter what the weather is like outside. With repair, installation, and maintenance services for your heater and air conditioner, you won't have to go a day without reliable heating & cooling services in Lakeland.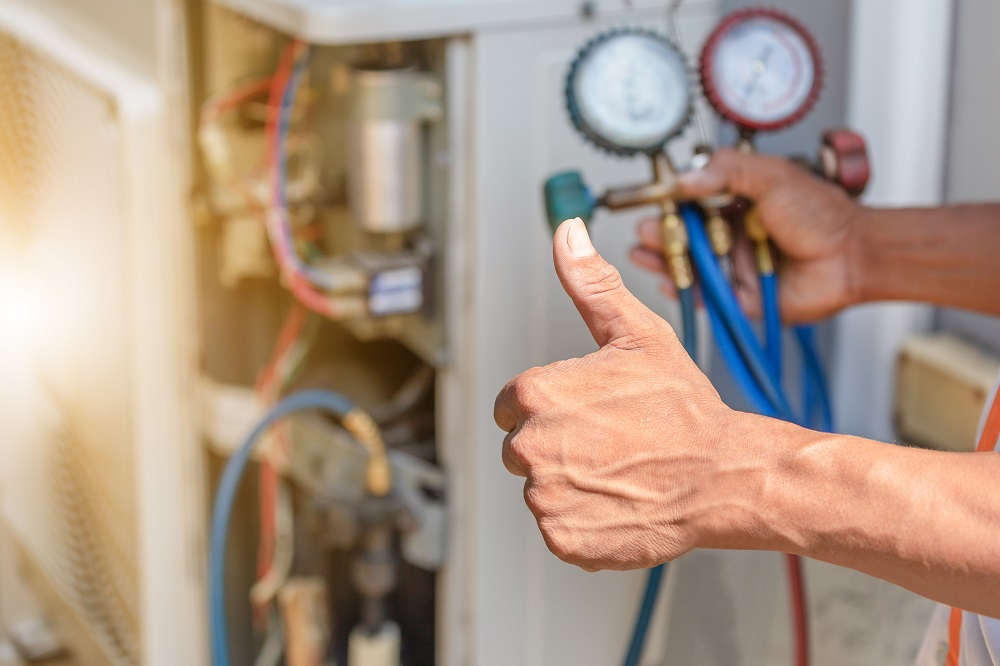 Contact us online or give us a call today at (901) 808-8881 for more information on our HVAC services or to schedule an appointment with one of our HVAC professionals.
Our Heating & Cooling Services in Lakeland
When you own an HVAC system, you'll run into a few different situations over the years. You'll need to give it regular maintenance to keep it from breaking down. You'll also have to schedule repairs, even if you've been taking care of it. And after quite a few years, when repairing the system is starting to make less sense, you'll have to schedule a replacement. No matter what service you need, we have all of the heating & cooling services in Lakeland that you need.
Air Conditioning Services in Lakeland
Your air conditioner plays an important role in keeping your house comfortable. It doesn't just cool off your home, it also reduces moisture in the air. High humidity levels can cause mold growth, respiratory problems, and bad odors in the home. It can also make it feel hotter. Our cooling services in Lakeland can help solve many of these problems. 
AC Repairs
It's never fun for your AC to have problems, but sometimes it can break down at the worst times. At Aloha Air, we get to your AC repair fast, so we can get your air conditioner back on track. We know how important cooling services in Lakeland are, and we won't let you be stuck in the heat. 
AC Installations
A lot hangs on the initial installation of your air conditioner. When it's installed correctly, it will be a lot more efficient, and it might even last longer. We are perfectionists when it comes to AC installation. We will also spend time with you to find the right system, so you can get the most out of it. 
AC Maintenance
One of our most important air conditioning services in Lakeland is our AC tune ups. More than 90% of repairs can be avoided by scheduling AC maintenance every year. We'll clean, adjust, and check your system to get it working like new.
Need to schedule an appointment for HVAC services? Give us a call today at (901) 808-8881.
Heating Services in Lakeland, TN
The same humidity that can make the air feel hotter can also make it feel colder in the winter. Some days it can seem like you'll never get warm, even when the thermometer says it shouldn't feel that cold. No matter what kind of heating system you have, we can take care of it with our heating services in Lakeland, TN.
Furnace Services in Lakeland
Whether you have an electric, gas, or oil furnace, you should be able to enjoy efficient heating all winter. If you aren't, we can help with our furnace services in Lakeland. We'll make sure your furnace is ready to go when the first cold day arrives.
Furnace Repair
Even if your furnace isn't ready to take on the colder temperatures, we always are. We're always here to help when your furnace breaks down and leaves you cuddling under the blankets for warmth. We work quickly and always have our trucks stocked, so you don't have to worry about going without heat for long. If you need furnace repair services, give us a call today.
Furnace Installations
Choosing the right furnace can sometimes be a tricky process. There are many things to consider like whether gas, electric, or oil is more efficient in your area and how big of a system you need to heat your home well. We'll help you make the right choice and then get your furnace installation done properly the first time.
Furnace Maintenance
If you've noticed your energy bills start to creep up during the winter when you are running your furnace, it may be that your system needs a furnace maintenance service. As part of our HVAC services in Lakeland, we offer seasonal tune ups for your furnace. Tune ups are important for the longevity of your furnace and can help you save money on repairs and utilities, too.
Choose the Best Heating & Cooling Services - Call Aloha Air Today!
Having a heating and cooling system that you know is in great condition is a good feeling. It means you can confidently heat and cool your home without worrying about breakdowns or safety concerns. When you work with our team at Aloha Air Conditioning and Heating Services, you'll have everything you need to keep your HVAC system in perfect condition. Our customer service is unmatched at Aloha. We back up all of our repairs with our 100% Customer Satisfaction Guarantee. Our friendly, local technicians and staff are always here to help. 
For more information on our HVAC services or to schedule an appointment with one of our skilled professionals, contact us online or give us a call today at (901) 808-8881.